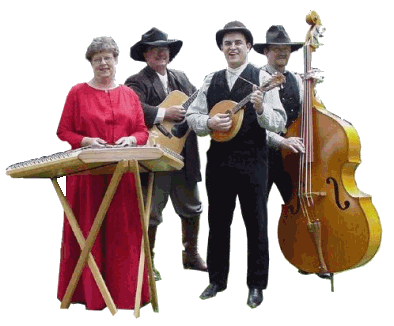 Stringband.com is dedicated to preservation and promotion of the musical art form loved by many known as the "String Band."
The term "string band" is a term which has more interpretations than it does definitions. In general, a string band could be defined as a group of musicians performing music with stringed instruments. That would be a very broad definition and really not do justice to the many varieties of bands performing today, as well as in the past. For the purposes of this web site, the minimum number of people required to have a band will be two, even though there are some very fine "one-man bands" out there today. So, the string band can include at least two people but may number as many as seventy or eighty or more. Instrumentation usually involves stringed instruments such as the guitar, mandolin, banjo, fiddle, hammered dulcimer, mountain dulcimer, chorded zither, bass, and other variations. Additionally, many bands include percussion instruments such as bones, drums, jaw bones, washboards, and even other novelties such as slide whistle. Some groups even include the flute, recorder, trumpet, saxophone, accordion, and washtub bass.
The style of music played by the string band is another area for multiple interpretations. Style is determined by the players, dependent upon their backgrounds, likes and dislikes, and even geography. For example, a string band from the South will probably have a different sound and arrangement than a string band from Philadelphia which takes part in the mummery tradition. Some string bands focus upon historical re-enactment while others simply play the music they like in their own styling. Some bands do both. Targeting specific audiences, such as children, also determines the repertoire and make-up of a band.
The purpose of this web site is to provide a place for string band fans and players to find information on bands and artists worldwide, upcoming festivals, reviews of albums and performances, and anything else string band related that comes our way. If you have suggestions or ideas or even information on a string band, submit it. Thanks for stopping by. Enjoy your time here and do come back often. And keep the tradition alive!