Song of the Hills
Instrumental Impressions of Appalachian Classics
Produced by Brian Keane
© 1999 Shanachie Entertainment Corp.
The Players
Jay Ungar,Molly Mason,Eric Weissberg,Norman Blake,Nancy Blake,John Sebastian,Bill Keith,Brian Keane,Lorraine Lee,Tony Trishchka,John Doan,Peter Blue,Ken Kosek,Stacy Phillips,Alan Feldman,John Sholle, and John Whelan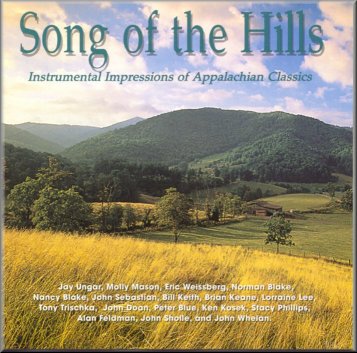 1. Tom Bigbee Waltz
2. The Water Is Wide
3. Midnight On The Water
4. Seneca Square Dance
5. Footprints In The Snow
6. Sweet Sunny South
7. Shenandoah
8. The Greenwood Tree
9. Shady Grove
10. Charles Giteaux
11. Man Of Constant Sorrow
12. Darling Cora
13. When First Unto This Country
14. Wagoner's Lad
A Review
by Nathan Sanders
Have you ever bought a tape or CD for just one song? Me too. However in this case, one song made my decision to purchase a definite choice. When I first saw this CD on the shelf at Barnes & Noble, I had to listen to it. Looking down the list of songs and recognizing several of the titles, I just knew this was a special recording. With earphones in place I hit the play button and became mesmerized by the first track, Tom Bigbee Waltz, played by Jay Ungar, Molly Mason, and John Sebastian. Any fan of Jay Ungar's music would instantly appreciate another beautiful tune ringing from his fiddle. Since this was a "test drive", I listened to only a portion of each of the tracks. Making my way from The Water Is Wide to Midnight On The Water, two more tunes which aid in painting a rich tapestry of the Appalachian setting, the sound of dancing feet opened up Seneca Square Dance. Every track of this recording contains a unique feel and sound. From the simple guitars of Norman and Nancy Blake on Charles Giteaux to their fiddle and cello duet on The Greenwood Tree, to Eric Weissberg's banjo on Darling Cora, to John Sebastian's solo harmonica with string orchestration by Brian Keane on Wagoner's Lad, the listener will become lost in a musical landscape and be swept away by the soothing sounds of traditional tunes. Oh yeah, the one song that sealed my decision to purchase? Well, if the song had not been on the CD, I would have bought it anyway, but the presence of Shenandoah was sort of like a bonus to me. This much loved melody is a favorite of many, but the arrangement on Song Of The Hills is probably the best and most moving recording yet. Brian Keane brings us his arrangement with acoustic guitar accompanied by "heavenly" string orchestration. This is probably the one track I had to listen to in its entirety on my "test drive." If you are a fan of traditional music or simply one who appreciates fine music, buy Song Of The Hills today. You'll be glad you did.