Song List
1. Firefly (Morgan Daniel)
2. Spinning World (Morgan Daniel)
3. Good Sense (Morgan Daniel)
4. Tongues of Fire (Morgan Daniel)
5. 10 Degrees and Getting Colder (Gordon Lightfoot)
6. Angel (Jimi Hendrix)
7. Stars Slip By (Morgan Daniel)
8. Liberate Me (Morgan Daniel)
9. One of these Days (Morgan Daniel)
10. Storms Are on the Ocean (A.P. Carter)
11. Adrenaline and Electricity (Morgan Daniel)
12. Rock of Ages (Gillian Welch/David Rawlings)
The Members of FOXGLOVE:
Gwyn Moreland - Vocals
Morgan Daniel - Vocals, Guitar
John Bush - Bass, Vocals
M. Booie Volk - Mandolin, Banjo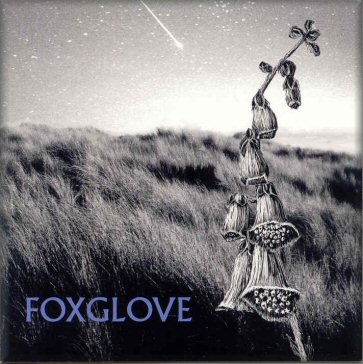 From the FOXGLOVE web site:
"Foxglove is a Northern California modern and-traditional folk acoustic band with a growing regional reputation. We feature strong song writing, lovely brother-sister harmonies, and tight instrumentation. Foxglove has been performing in numerous concert, festival, and coffeehouse venues, and performed at last year's Wild Iris Folk Festival, and the Caspar World Folk Festival. Foxglove has been invited back to both of these events in 2005 by popular demand."
A Review
by Nathan Sanders, Stringband.com
When I first heard sounds clips of Foxglove's self-titled CD on their web site, my first thought was "Cool". If you have to put them in a category, the above quote calling them modern and traditional folk would certainly fit. Yet, the band incorporates elements from many genres of music. I hear a lot of "New Grass" influence, but I also hear some blues and rock elements, mixed into this well-executed acoustic folk mixture. Honestly, at times during the day I can hear some of the guitar and mandolin licks in my head. Too cool! Gwyn's smooth, angelic voice is mesmerizing. Of course the really outstanding feature of Foxglove is the songwriting of Morgan Daniel. Most of the tracks are originals by Morgan and wonderfully interpreted by the whole band. I really like it when a bass player gets a chance to solo on his instrument, as John Bush gets to several times. And the clean, bluesy mandolin of Booie rocks. The whole album is nicely mixed with a very clean, strong sound. Morgan and Gwyn trade off lead vocals, and John Bush even gets to sing lead on the Jimi Hendrix song Angel. Overall, I enjoyed the FOXGLOVE CD, and I can see why they are such a big hit in the California folk scene. They have a mix that can take them far. Check out their web site and get your own copy of FOXGLOVE. You will be glad you did.