The Players:
Pat Ireland - Fiddle
Harvey Heidbreder - bass, back-up vocals
Steve Philpott - dobro
Kevin Sanders - guitar, vocals, banjo-guitar, piano, harmonica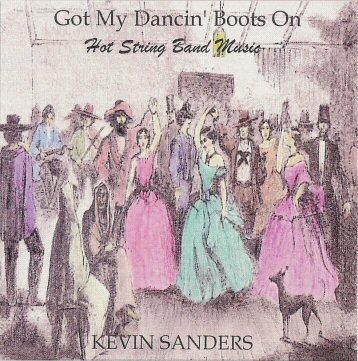 A Review
by Nathan Sanders, Stringband.com
From the opening tune "Goin' To The Barn Dance" to the last track "Blessed Be The Name" you will find yourself getting a musical workout as well as a physical workout. Got My Dancin' Boots On is just too much fun. And you will find a few different styles of music. I especially enjoyed the ragtime feel of "Who Walks In When I Walk Out," complete with dixie-land style banjo. Kevin and company have given us some nice vocals on tunes of yesteryear in addition to some instrumentals that will get you out of your chair to either dance a lively polka or even a soothing waltz, such as "The Painting." The Spanish feel and sound of "Solita" reminds me of the movie The Long Riders. Like many a good album, liner notes are included, giving a brief explanation of each tune. All in all Got My Dancin' Boots On is perfect for staging your own dance in your own home, if you cannot afford a live band. Visit Kevin Sanders' site today and get your own copy.