The following quote is from the CD cover of the Vigortone Records latest release, "down in Little Egypt" by Lynn "Chirps" Smith:
"The Midwest's premiere square dance fiddler, Chirps Smith, offers up twenty-six tunes that bring to mind front porch music-making on the Illinois prairie and dances held in cabins in the hollers of Little Egypt, all played in a style that he calls simply, and modestly, "Midwestern." There's more to it than that, but put on the CD and see for yourself."
The Players:
Chirps Smith - Fiddle
Curtis Buckhannon - mandolin,mandola,mandocello
Fred Campeau - banjo,guitar, Hawaiian guitar, banjo uke, fiddle
Dave Landreth - banjo, guitar
Jeff Miller - banjo
Jim Nelson - guitar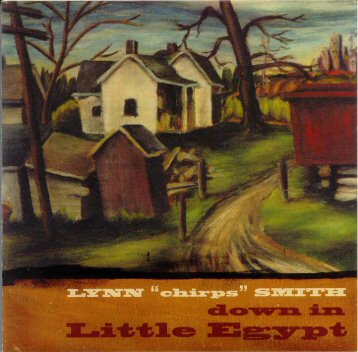 A Review by
Nathan Sanders, Stringband.com
Have you ever been to an old-time dance, maybe a contra dance, or living history type of dance? Chirps Smith will help transport you to such an event in your mind with his new CD of fiddle tunes down in Little Egypt. The recording quality is superb, the musicians are some of the best in the Midwest, and the CD packaging is beautiful, featuring a painting done by Chirp's father. Since this is Chirp's CD, of course it features his playing, which is very smooth, distinct, and known to instigate toe-tappin'. Personally, I would like to have heard some of the other musicians take some lead parts now and then. Yet, Dave Landreth, Fred Campeau, Jeff Miller, Curtis Buckhannon, and Jim Nelson do provide a very nice canvas on which Chirps cuts loose with his fiddlin' strokes. Should you ever wish to plan a dance at your place, first of all, hire a band. However, if you are unable to afford a band, a CD such as this could be used as your "band in a can." (live music is always better though).
Chirps has also provided liner notes detailing his sources and inspirations for each tune. Background stories always provide a much appreciated depth to an album. All in all down in Little Egypt is a lot of fun. Visit Vigortone Records to get your copy today.